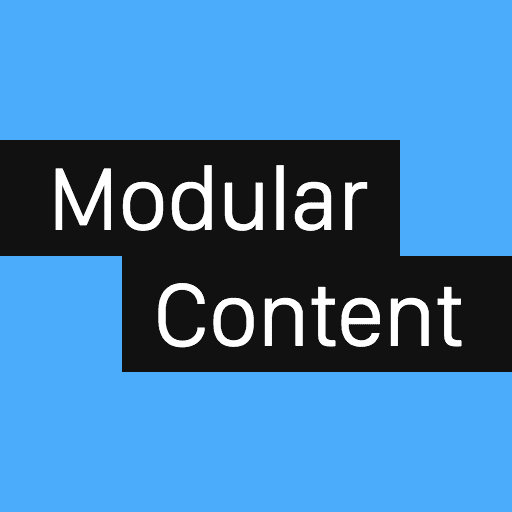 Modular Content is the killer feature that's missing from basic WordPress installations. You can use it for darn near anything, and it'll benefit your site in the following ways:
Easier integrations — Modular Content is a perfect fit for email forms, product pitches, feature boxes, image galleries, or any other content you want to display on an as-needed basis.
Enhanced organization — Maintenance is easier when your customizations are organized in one place; Modular Content is a one-stop-shop for all your custom content.
Eliminate Plugins — Modular Content replaces the need for Plugins like Post Snippets, Shortcodes Ultimate, anything that delivers email forms, and more!
But that's not all. Modular Content is as flexible as your imagination, and this means you'll be able to use it in creative ways we haven't even thought of yet!
Read on to see how Modular Content will help you enhance the effectiveness of every page on your website.
What's the "big idea" here?
WordPress is great for managing your main content—Posts and Pages—but both of these items come with a baked-in assumption that massively limits their flexibility:
Every Post and Page automatically gets turned into a full-blown web page with its own URL.
At first, this may seem convenient, or even desirable. But once you start thinking about using your content in more creative ways, the shortcomings become clear.
For example, what if you wanted to display a piece of content in two locations on your site? If this content were a Post or Page, how would you get it to display twice? (Moreover, how would you deal with resulting SEO concerns like canonical URLs and duplicate content?)
Let's take this a step further.
Consider an email opt-in form. It's just a piece of content, and this means there's no reason it couldn't be a Post or Page!
But because of the way WordPress Posts and Pages work—with that pesky automatic URL behavior—we've been conditioned to think we need to add a specialized Plugin to handle what ought to be a simple, intuitive task.
Here's the truth:
The only real difference between an email form and an article is that you might want to display the email form in multiple locations throughout your site.
This is where Modular Content unlocks the key to content creativity and enables your imagination to run wild.
And it's so easy, you'll wonder why WordPress doesn't work this way by default:
Create a piece of Modular Content and then deploy it anywhere on your website—on any Post or Page, inside a Widget, wherever—with a simple shortcode.
Modular Content is not turned into a web page with its own URL, so those SEO and duplicate content concerns simply disappear.
And thus, the "big idea" is really just a basic action:
Create some content—without worrying about URLs or SEO—and then deploy it wherever you want, whenever you want!
Working with Modular Content is EASY
Creating Modular Content is almost exactly like creating a Post or Page in WordPress, and thanks to this familiarity, you'll be able to start using Modular Content immediately.
Let's take a quick tour of the interfaces so you can see how Modular Content fits seamlessly into your workflow.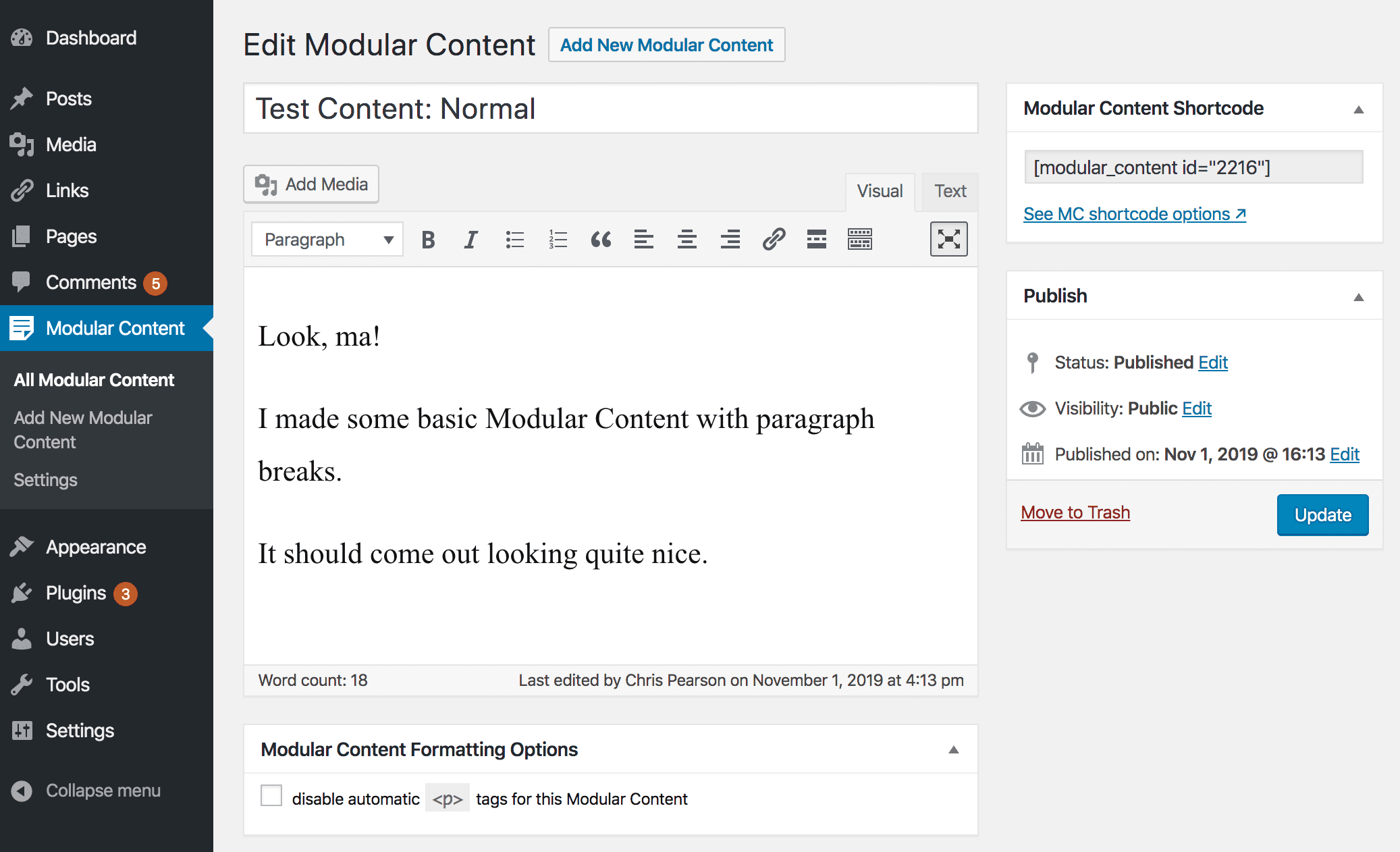 You already know how to create basic content in WordPress, and this means you already have the skills necessary to create any kind of Modular Content you want!
Deploying your Modular Content is easy, too. See that Modular Content Shortcode box in the upper right corner of the image above?
To display this piece of Modular Content anywhere, simply copy that shortcode, and then paste it inside other content on your site:
And if you want to get crazy, you can even paste Modular Content shortcodes inside other pieces of Modular Content. Inception!
Thanks to this flexibility, the possibilities with Modular Content are endless.
How can you take Modular Content to the next level?
There's one more killer feature you can use to run your site like an absolute ninja: Modular Content fallbacks.
Fallbacks enable you to select any piece of Modular Content to display on Posts or Pages by default.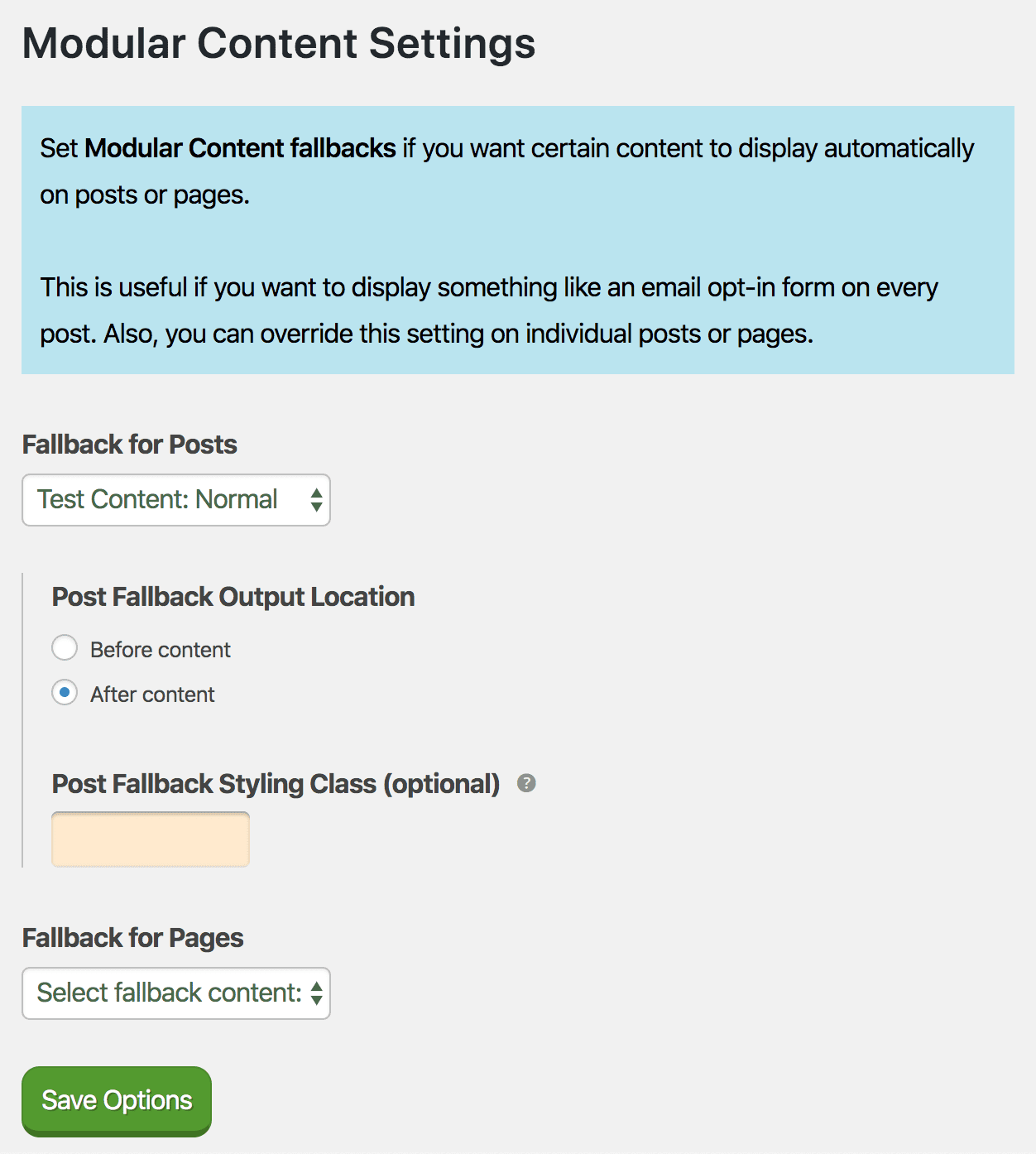 Stuff like this used to require custom PHP code and was therefore out of reach for all but the most hardcore WordPress users.
Now Modular Content makes it easy for everyone.
And it doesn't stop there. You can also override the sitewide fallbacks on any post or page by using the new controls you'll find in both the Gutenberg and Classic WordPress editors: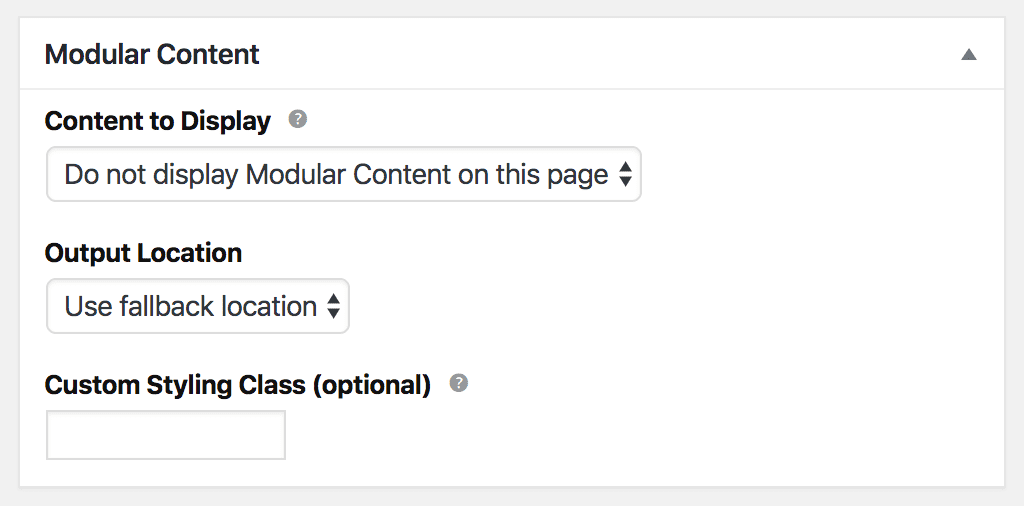 To illustrate the flexibility here, imagine you've selected an email form as your Modular Content fallback for all Posts.
But you're about to publish an article about a new book you've written, and instead of an email form, you'd like to include a sales pitch for your book on this page only.
All you'd need to do is create a piece of Modular Content with your sales pitch, and then you could select this content to display on the article about your book.
It's easy, intuitive, and fun!
With Modular Content, you're only limited by your imagination. Here are just a few ways you can use this amazing functionality:
test different sales pitches
deploy email different email opt-in forms based on your content
add curated links to your best content
create author bios for display on a multi-author website
quarantine image gallery code so it doesn't muck up your content
Again—the sky is the limit here.
Bottom line? You can use Modular Content to solve problems, generate leads, eliminate Plugins, and make your site easier to manage!
I want to win with Modular Content!
To get started, select the Modular Content license that's right for you ↓
Modular Content
$47

/year

$87

/year

$137

/year
(billed yearly until cancelled)
Common Questions about Modular Content
Will Modular Content work with my WordPress Theme?
Yes—Modular Content works with any WordPress Theme!
Will Modular Content work with my favorite Page Builder?
Absolutely! In fact, Modular Content actually makes it easier to work with your favorite Page Builder by simplifying the task of displaying certain content wherever you want.
Can I use Modular Content on my WordPress.com site?
Yes, but only if you have a WordPress.com Business plan. (You have to pay for the privilege of using what you want.)
Why is this a recurring payment and not a one-time fee?
The Modular Content Plugin is continuously updated for feature enhancements and WordPress compatibility. Updates aren't cheap—they require lots of development and testing—and the recurring pricing structure reflects the ongoing work that goes into the Plugin.
In addition, the price covers more than just the product itself. Your purchase gets you access to the Modular Content community via the DIYplugins forums, where you'll find assistance, tips, and a reliable place to turn with any questions you might have. It also gets you access to private email support.
Finally, you have total control over the recurring charges and can cancel at any time. You will not be charged in perpetuity because you are in control.
Can I purchase any way other than with a credit card?
No, recurring payments require the use of a credit card. We do offer a choice of payment processor, though—Stripe or PayPal—so you can use the service you prefer.
What will happen to my site(s) if my license expires?
If your Modular Content Plugin license expires, your site(s) will still work, but the Modular Content Plugin will no longer receive automatic updates.
In addition, you will not be able to download the Modular Content Plugin, access the forums, or use private email support for this product until your license is renewed.
Do you offer refunds?
The Modular Content Plugin comes with a 14-day money-back guarantee. No questions asked!
To begin the refund process, simply open a request in the Customer Support Center, and we will process your refund as quickly as possible.
Refunds are for losers, though, so this is never gonna apply to you.
Still have questions?
If you still have questions about purchasing the Modular Content Plugin, feel free to email us: diythemes@gmail.com.
Curious about that email address? DIYthemes is our sister WordPress Theme site, and we have been running all pre-sale inquiries through that address for over 12 years!